---

The Motion Pictures

---

Gerry Anderson's

"Adults should be accompanied by a child"
Produced by Sylvia Anderson
Directed by David Lane
Filmed in Supermarionation and Technicolour

"STREAK THROUGH UNCHARTED WORLDS OF ADVENTURE!"
Strap in with the incredible Tracy team and prepare for takeoff! All systems are go as the amazing electronic puppets, in the first feature length Supermarionation, launch a highly dangerous rescue mission in space.
The excitement begins as Zero-X, a 21st-century spacecraft, is leaving earth's atmosphere. Bound for Mars with five men aboard, the craft is suddenly blasted by a mysterious explosion. Sabotage! Can International Rescue uncover the perpetrators and save the next launch? Be there as the urgent call comes in - and Thunderbirds Are Go!
Visual Effects director Derek Meddings (Moonraker, Superman) created the films fantastic rockets and spacecraft, as well as a gadget-loaded super car that James Bond would envy. And great sound effects are provided by some of London's most famous rock stars, including Cliff Richards and The Shadows. Kids of all ages are joining the incredible Thunderbirds - where excitement and adventure are go!"

ITC's Sir Lew Grade suggested to Gerry Anderson that he should take Thunderbirds to the big screen. A budget of 250,000 pounds was set and production began in 1966.
Thunderbirds Are Go! told of the first manned space mission to Mars and the perils faced prior to the successful launch of the spacecraft Zero-X, as well as the dangers encountered on Mars and the craft's return to Earth. Gerry explains "Believability was always my aim, no matter how outrageous or bizarre the story lines might appear. At that time, in the Sixties, there was a general feeling that the planets were just within our grasp. And, of all the planets, the one most people thought might possibly sustain life was Mars."
Derek Meddings again supervised the special effects, many of which were bigger and more complex than anything produced in the TV series. The model for the spacecraft Zero-X itself measured seven feet in length, weighed 50lbs and took two months to construct, but its total destruction took just two days to film. Cortex explosive along with naptha, gunpowder, magnesium and petrol gel were used to create a convincing fireball.
The film also featured a dream sequence where Alan Tracy dreams of being whisked away in FAB1 with Lady Penelope to the nightclub the Swinging Star. The entertainment is provided by Cliff Richard Jnr and the Shadows. Lifelike puppets were made of the real Cliff Richard and the Shadows and the artists provided the voices and music for the soundtrack.
After the movie premiered at the London Pavilion, Picadilly Circus on Monday 12th December 1966 the press raved about it praising its technical merits and the special effects. However, despite the glitz and glamour of opening night, the Christmas release date and the positive press, the filmed performed poorly at the box office. Gerry has never been able to understand why the movie failed in such a way.

To view a Thunderbirds Are Go! trailer in Quicktime format click on the links below!

Low resolution

Mid resolution

High resolution

To view a Thunderbirds Are Go! trailer in Windows Media Player format click on the links below!

Low resolution

Mid resolution

High resolution

---

Produced by Sylvia Anderson
Directed by David Lane
Filmed in Supermarionation and Technicolour

"DOUBLE-CROSS...
DOUBLE DANGER...
TRIPLE THRILLS!"
Stand by for another action-packed adventure of the amazing International Rescue team! There's excitement, mystery and thrills ahead as the world-famous electronic puppets are faced with a plot to steal their fabulous fleet of rescue craft.
The trouble begins when Rescue Team member Alan Tracy sets out on a holiday with Lady Penelope, Parker and Tin-Tin. Once aboard Skyship One, they discover that their quarters are bugged. Operation ambush is under way, and Alan soon learns that a phony message has sent Thunderbirds One and Two, piloted by his brothers Scott and Virgil, flying straight into a trap in Casablanca! Back at International Rescue Headquarters, multi-millionaire Jeff Tracy and his assistant, Brains, are trying to develope a new Thunderbird craft to add to their impressive machinery. But this is put on hold when they must come up with a plan to avert disaster - fast!
How will they rescue the hostages aboard Skyship One, save the Thunderbirds and bring the criminals to justice? You'll love finding out in every action-packed minute of this thrilling airborne adventure. So buckle up and take-off - with Thunderbird 6!

Despite the disappointment of Thunderbirds Are Go! at the box office Lew Grade and United Artists were game to commission a second movie, titled Thunderbird 6. Production was run in parallel with the Captain Scarlet series with Gerry Anderson focusing primarily on the movie but keeping an overview of the production of the TV series. The Thunderbird 6 script took three months to complete, the dialogue took six days to record, while the actual filming ran for 35 weeks. The best of the original Thunderbirds puppets were selected for the movie and given a quick sanding down, a re-paint and in some cases a re-wigging to smarten them up. The final budget was 300,000 pounds.


A puppet size model of Thunderbird 6 was made along with several radio controlled models and shots of these were integrated with the actual flying scenes of a real Tiger Moth. Joan Hughes, an experienced pilot who had flown in many movies prior to Thunderbird 6 flew the flying sequences. During filming of one sequence on the newly constructed M40, Joan along with Production Manager Norman Foster were arrested after she flew under a bridge. Originally she was to taxi under the bridge but crosswinds meant she had to keep flying just a foot or so above the ground. Gerry pleaded to the police that as Producer he should be charged instead. In the end the jury acquitted them on all charges.
A full size FAB1 was also constructed at a cost of 11,000 pounds for promotion of the film and toured Britain accompanied by Lady Penelope look alike, Penny Snow.


Thunderbird 6 premiered on July 29 1968 at the Odeon Cinema, London, but again like the first movie, it performed poorly at the cinema - doing even worse than Thunderbirds Are Go! Again Gerry was at a loss to explain why simply saying, "Perhaps, at the time television was television and cinema was cinema. For some reason, we had produced a great success for television, but that success didn't translate to the big screen".

To view a Thunderbird6 trailer in Quicktime format click on the links below!

Low resolution

Mid resolution

High resolution

To view a Thunderbird6 trailer in Windows Media Player format click on the links below!

Low resolution

Mid resolution

High resolution
---
THUNDERBIRDS - International Rescue Edition 2-Disc DVD Set
Street Date: July 20, 2004
US$29.98 SRP - Giftset
US$14.95 SRP - Singles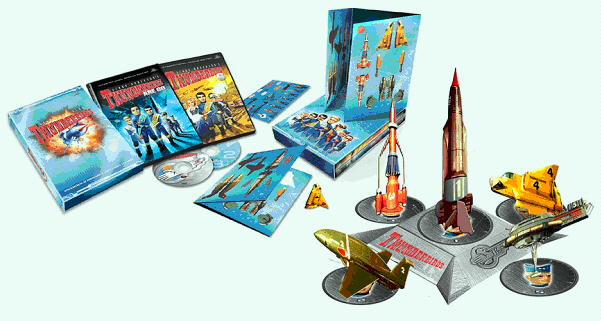 WHAT IS THE THUNDERBIRDS INTERNATIONAL RESCUE EDITION 2-DISC DVD COLLECTOR'S SET?
Featuring 2 original feature films, Thunderbirds Are Go and Thunderbird 6, each film is loaded with special features!
Presented in Widescreen (16x9) with DTS Dolby Digital 5.1 Surround Sound
Unique "Interactive" packaging with removable die-cut model rocket ships
Audio commentaries featuring Producer Sylvia Anderson and Director David Lane
3 Featurettes
Animated photo gallery
Collectible magnets
Fun quiz and more!
*Also available as singles with special features.
For more information visit the official MGM Home Entertainment website at:
http://www.mgm.com/title_title.do?title_star=XXXSETTBIRDS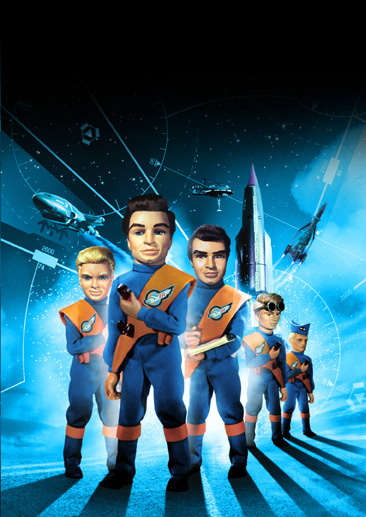 ---